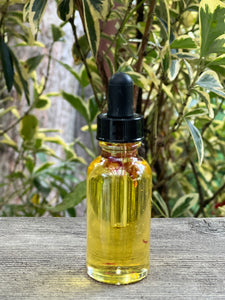 This dual function, luxury glamour oil and skin serum is one you'll want to immediately add to your glamour routine and your skin care regimen. Formulated with rose petals, rose hips, 24 karat gold flakes, in a base of pomegranate seed oil, this glamour oil imparts an air of old world luxury, elegance, and refinement. Rose petals and rose hips support skin health as antioxidants, by reducing redness and inflammation, adding vitamin C, and fighting premature aging. Gold has long been known for its ability to protect against free radicals and supporting the production of collagen.
For external use only.
1 oz. condition oil

Please note: Spiritual work is not a replacement for health care or other professional services provided by a competent, licensed provider. If any of your conditions require professional attention, seek it without delay. All products sold on crossroadhealingarts.com are sold as curios for entertainment purposes only.

Shipping policies:

All orders placed between September 16 and September 23 will be fulfilled and shipped the no later than October 23. Please keep in mind that supply issues related to the ongoing COVID-19 pandemic are beyond our realm of control and may impact your order thus causing a delay. 
All orders shipped via USPS; and
The vendor is not responsible for delays caused by the carrier. For more info, see terms and conditions.