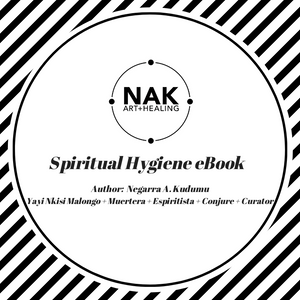 I received a divination and prescription from Negarra in May and since following her guidance have seen major improvements in how I feel physically, spiritually and emotionally. Negarra gave me accurate divination with clear instructions and touched on experiences I had been having and provided solutions for solving them. She was clear with me, and truly made me feel supported in my spiritual journey. I recommend her 1000 times over.

S. Troutman / California, 2019
Thinking a lot this week about collaborations with Negarra A. Kudumu, given the prominence of the exhibition in NYC that evolved from the book we co-edited, All Power: Visual Legacies of the Black Panther Party. Negarra is a smart, clear collaborator with insight and direct feedback, a joy to work with and a person who understands depth as well as deadlines. In addition to this book I have participated in panels she has organised and on her interview for Nicholas Galanin's book, where once again she was swift and incisive. A powerful combo.

M. Dunn Marsh / Washington, 2018
Let me begin by saying how much of a professional, educated, and amazing woman Negarra is at her core. The wisdom she drops from her posts to her services are absolute gems. I definitely recommend booking some form of divination or healing session with her, but at the bare minimum, please read her blog posts that are filled with such well researched and intuitively-led information. The two sessions I had with her were the Oracular Divinations. The first was an absolute READ. I was told everything that was wrong in my life in the first 15 minutes lol, but it was necessary! Afterwards, Negarra proceeded to provide me with a plethora of solutions that I could do on my end and what she would do if I decided to agree to the services (of course I did). So, months later I had a follow-up back in January. By that point I had completed the Works prescribed by Negarra, and I definitely felt better. Still, I was excited, and nervous, to see what this divination session had in store for me. Once again another amazing session, and it felt great to have another one-on-one session. Speaking of which, definitely join one of her Mentorship programs and purchase her Spiritual Hygiene E-Book. Ever since the first reading, Negarra has been very accessible, and I look forward to working with her in the future. 

A. Grey / Tennessee, 2020
Not sure where to start?
Schedule an initial consultation to speak to Negarra about your healing needs.


This is an initial consultation where we will discuss in depth about your interest in healing, goals and priorities, and questions about the services offered by Negarra A. Kudumu | Crossroad Healing Arts. The session will last 45 minutes and the information gleaned will be used to provide recommendations for the services that will best meet your needs.